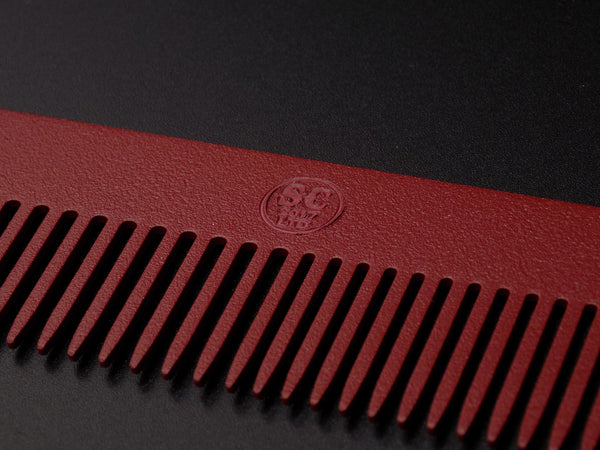 The Rebel is a limited edition dresser comb that has a special hand stamped logo using a 3lb hammer and steel stamp. The finish is a blood red ultra smooth powder coat from a local Chicago powder coating company.
So you just wake up and your hair is a tangled mess. You look at yourself in the mirror and think to yourself, how did this happen? What was I doing while I was sleeping? How am I going to fix this? That's where the Rebel comes in. It's outfitted with wide teeth on one side to help get those tangles out smoothly. If your hair is naturally dry, be sure to add some water. Now that the tangles are out and your hair is feeling manageable, flip it over to the finer tooth side to get the shaping and styling done. Of course, be sure to apply your preferred hair styling product. Maybe you're an oil based greaser or you like the matte textured look, either way this comb will get the job done. Now that your hair is in a shape you like, flip the comb back over to the wide tooth side to add some wider comb lines or to build up some volume.  

Teeth are 2cm long, providing adequate space for medium and long hair
Medium spacing on one end, fine spacing on the other
Fantastic for combovers and undercuts
A comb that is great for medium or long hair. A powder coated finish and generous teeth spacing provide a smooth stroke that works great on thick hair that has become unmanageable using standard plastic combs. The weight behind this comb and each stroke feels great in the hand and also provides a nice massage to the head.

For good measure, some Billy Idol - Rebel Yell